JOHN 14:1-3
Let not your heart be troubled; you believe in God, believe also in Me. In My Father's house are many mansions; if it were not so, I would have told you. I go to prepare a place for you. And if I go and prepare a place for you, I will come again and receive you to Myself; that where I am, there you may be also.
ACTS 1:9-11
Now when He had spoken these things, while they watched, He has taken up, and a cloud received Him out of their sight. And while they looked steadfastly toward heaven as He went up, behold, two men stood by them in white apparel, who also said, "Men of Galilee, why do you stand gazing up into heaven? This same JESUS, who was taken up from you into heaven, will so come in like manner as you saw Him go into heaven."
LUKE 12:35-40
Let your waist be girded and your lamps burning; and you yourselves be like men who wait for their master, when he will return from the wedding, that when he comes and knocks they may open to him immediately.
Blessed are those servants whom the master, when he comes, will find watching. Assuredly I say to you that he will gird himself and have them sit down to eat, and will come and serve them. And if he should come in the second watch, or come in the third watch, and find them so, blessed are those servants.
But know this, that if the master of the househad known what hour the thief would come, he would have watched and not allowed his house to be broken into. Therefore you also be ready, for the Son of Man is coming at an hour you do not expect.

MATTHEW 25:1-13
Then the kingdom of heaven shall be likened to ten virgins who took their lamps and went out to meet the bridegroom. Now five of them were wise, and five were foolish. Those who were foolish took their lamps and took no oil with them, but the wise took oil in their vessels with their lamps.
But while the bridegroom was delayed, they all slumbered and slept. And at midnight a cry was heard: "Behold, the bridegroom is coming; go out to meet him! " Then all those virgins arose and trimmed their lamps. And the foolish said to te wise: "Give us some of your oil, for our lamps are going out." But the wise answered, saying: "No, lest there should not be enough for us and you; but go rather to those who sell, and buy for yourselves.
And while they went to buy, the bridegroom came, and those who were ready went in with him to the wedding; and the door was shut. Afterward the other virgins came also, sying:"Lord, Lord,open to us. But he answered and said: "Assuredly, I say to you, I do not know you. Watch therefore, for you know neither the day nor the hour in which the Son of Man is coming.

MATTHEW 24:36-39, 42-44
"But of that day and hour no one knows, not even the angels of heaven, but My Father only. But as the days of Noah were, so also will the coming of the Son of Man be. For as in the days before the flood, they were eating and drinking, marrying and giving in marriage, until the day that Noah entered the ark, and did not know until the flood came and took them all away, so also will the coming of the Son of Man be.
Watch therefore, for you do not know what hour your Lord is coming. But know this, that if the master of the house had known what hour the thief would come, he would have watched and not allowed his house to be broken into. Therefore you also be ready, for the Son of Man is coming at an hour you do not expect.
LUKE 17:28-30
Likewise as it was also in the days of Lot: They ate, they drank, they bought, they sold, they planted, they built; but on the day that Lot went out of Sodom it rained fire and brimstone from heaven and destroyed them all. Even so will it be in the day when the Son of Man is revealed.


1 CORINTHIANS 15:51-52
Behold, I tell you a mystery: We shall not all sleep, but we shall all be changed. In a moment, in the twinkling of an eye, at he last trumpet. For the trumpet will sound, and the dead will be raised incorruptible, and we shall be changed.
1 THESALONNIANS 4:16-18
For the Lord Himself will descend from heaven with a shout, with the voice of an archangel , and with the trumpet of God. And the dead in Christ will rise first.
Then we who are alive and remain shall be caught up together with them in the clouds to meet the Lord in the air. And thus we shall always be with the Lord. Therefore comfort one another with these words.
1 THESALONNIANS 5:1-6
But concerning the times and the seasons, brethren, you have no need that I should write to you. For you yourselves know perfectly that the day of the Lord so comes as a thief in the night. For when they say, "Peace and safety! " then sudden destruction comes upon them, as labor pains upon a pregnant woman. And they shall not escape.
But you, brethren, are not in darkness, so that this Day should overtake you as a thief. You are all sons of light and sons of the day. We are not of the night nor of darkness. Therefore let us not sleep, as others do, but let us watch and be sober.
2 Peter 3:9, 15-18
The Lord is not slow in keeping His promise, as some understand slowness. He is patient with you, not wanting anyone to perish, but everyone to come to repentance.

Bear in mind that our Lord's patience means salvation, just as our dear brother Paul also wrote you with the wisdom God gave him.

He writes the same way in all his epistles, speaking in them of these matters. His letters contain some things that are hard to understand, which ignorant and unstable people distort as they do the other Scriptures, to their own distruction.

Therefore, dear friends, since you know this, be on your guard so that you may not be carried away by the error of lawless men and fall from your secure positon. But grow in the grace and knowledge of our Lord and Savior JESUS Christ. To Him be glory both now and forever! Amen.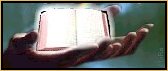 "And now, little children, abide in Him, that when He appears, we may have confidence and not be ashamed before Him at His coming" 1John 2:28
© Copyright Maran-ata.Net - All rights reserved