The Shepherd and his Flock
I tell you the truth:
The man who does not enter the sheep pen by the gate, but climbs in by some other way, is a thief and a robber. The man who enters by the gate is the shepherd of his sheep.
The watchman opens the gate for him, and the sheep listens to his voice. He calls his own sheep by name and leads them out. When he has brought out all his own, he goes on ahead of them, and his sheep follow him because they know his voice. But they will never follow a stranger; in fact, they will run away from him because they do not recognize a stranger's voice. John 10:1-5
The Shepherd's Psalm
The Lord is my Shepherd; I shall not be in want.
He makes me lie down in green pastures,
He leads me beside quiet waters, He restores my soul.
He guides me in paths of righteousness
for His name's sake.
Even though I walk through the valley of the shadow
of death, I will fear no evil, for you are with me;
your rod and your staff, they comfort me.
You prepare a table before me in the presence
of my enemies. You anoint my head with oil;
my cup overflows.
Surely goodness and love will follow me all the
days of my life, and I will dwell in the house of
the Lord forever.
PSALM 23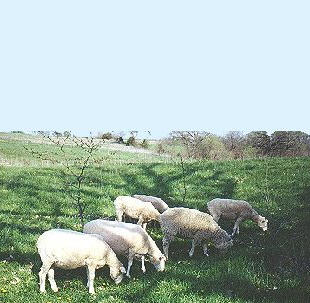 I am the good shepherd. The good shepherd lays down his life for the sheep.
I am the good shepherd; I know my sheep and my sheep know me, just as the Father knows me and I know the Father, and I lay down my life for the sheep.
John 10:11, 14-15
I have other sheep that are not of this sheep pen. I must bring them also. They too will listen to my voice, and there shall be one flock and one shepherd. John 10:16
Suppose one of you has a hundred sheep and loses one of them. Does he not leave the ninety-nine in the open country and go after the lost sheep until he finds it? And when he finds it, he joyfully puts it on his shoulders and goes home. Then he calls his friends and neighbors together and says: Rejoice with me; I have found my lost sheep. I tell you that in the same way there will be more rejoicing in heaven over one sinner who repents than over ninety-nine righteous persons who do not need to repent. Luke 15:4-7

But go and learn what this means: "I desire mercy, not sacrifice. For I have not come to call the righteous, but sinners. Matthew 9:13

Today salvation has come to this house, because this man, too, is a son of Abraham. For the Son of Man came to seek and to save what was lost. Luke19:9-10

Repent, then, and turn to God, so that your sins may be wiped out, that times of refreshing may come to the Lord. Acts 3:19

"Salvation is found in no one else, for there is no other name under heaven given to men by which we must be saved ... but in the name of JESUS" Acts 4:12
Are you

the lost sheep

?

#100

Say YES to
JESUS ...

NOW
Make a joyful shout to the Lord, all you lands!
Serve the Lord with gladness; come before His presence with singing.
Know that the Lord, He is God; It is He who has made us,
and not we ourselves. We are His people and the sheep of His pasture.
Enter into His gates with thanksgiving, and into His courts with praise.
Be thankful to Him and bless His name. For the Lord is good:
His mercy is everlasting, and His truth endures to all generations.
PSALM 100
HOME
"So do not fear, for I am with you;
do not be dismayed, for I am your God.
I will strengthen you and help you;
I will uphold you with my righteous right hand."
Isaiah 41:10